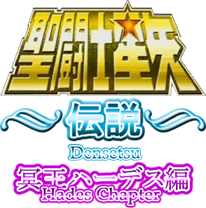 "Saint Seiya Densetsu" will be rebooted as "Saint Seiya Densetsu: Meiou Hades-hen" (Hades Chapter) due to many factors, explained here. The game will focus on the Hades arc, mostly from the end of the Sanctuary Chapter until Elysion, with a revamped battle system, better graphics and sprites, and many other surprises to come. This is a placeholder page, be sure to catch our latest updates through Twitter until the new site's built.
Work in Progress Screenshots
Work in Progress Videos
The old version is still accessible here, but it has been discontinued and its support as well - please refer to the game's walkthrough if you have any troubles, but there is nothing we can do about the bugs.